Main content starts here, tab to start navigating
Seasonal Apothecary, Pantry & Goods
All things Alma.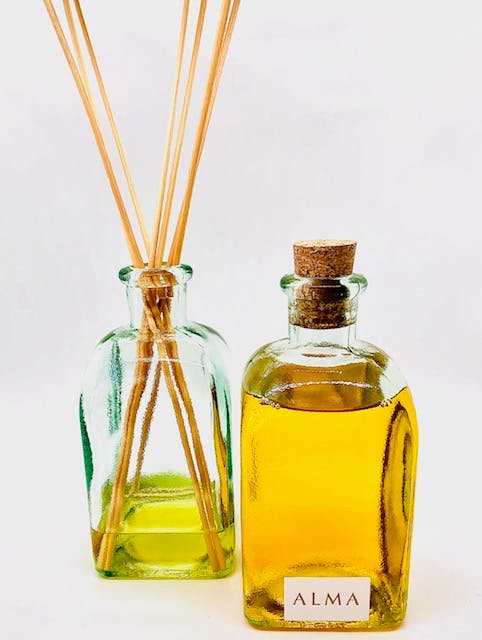 FALL
Autumn has its own scent. A season where crops and fruits are gathered, leaves change colors and the days get shorter and cooler. Our intuition instructs us to create cozy spaces. Alma's expression of the season combines the spiciness of clove, the sweetness of bergamot and earthy cedarwood. We hope this signature scent connects with the sentiment and beauty you experience this time of year.
Our mission is to always be mindful of offering eco friendly products. Sourcing American made, local, recyclable and reusable whenever possible.
Online ordering and pick up only available during hours of operation
∞
Matcha & Turmeric Soaking Salt

Inspired by the tradition of bathing as a healing and wellness practice, this dead sea salt soak is infused with organic coconut oil, organic rosehip seed oil, organic turmeric, organic matcha and the Alma fall scent of cedarwood, clove lavender and bergamot. Sweat, detox and soften skin while replenishing mind and body. (4oz).

$10.5

Hand & Body Lotion

Aloe vera, oat bran, Moroccan argan oil & rosehip seed oil hand lotion infused with the Fall essential oil blend (8oz).

$21

Hand Sanitizer

70% grain alcohol from a local distillery infused with organic coconut oil, glycerin, aloe vera, floral waters and therapeutic grade essential oils (3oz).

$6

Bar Soap

Infused with oatmeal and turmeric to cleanse & detox. Fortified with argan oil to brighten & clear skin and infused with the Alma Fall scent. Includes a natural ramie fiber exfoliating bag that can be used as a washcloth. (3oz).

$10.5

Liquid Hand Soap

A silky and moisturizing organic castile and aloe vera soap infused with bergamot, cedarwood, grapefruit, clove & lavender (8oz).

$17.5

Body Wash & Bubble Bath

Organic aloe vera leaf based soap infused with healing oils of argan, rosehip seed and hemp (12oz).

$21

Botanical Mist

A naturally hydrating and uplifting mist made with floral waters, vodka, aloe vera juice, witch hazel. For face, body, air and pillow (2oz).

$16.5

Glow Body Oil

Nourishing body oil made with apricot, organic moroccan argan oil, organic rosehip seed, hemp, sesame and organic coconut oil and gold mica to smooth and moisturize skin (2oz).

$21

Body Balm

A little goes a long way. Stay soft and smooth this autumn with this luxurious body butter formulated with organic shea butter, Moroccan argan oil, organic beeswax, organic coconut oil and other naturally therapeutic oils infused with our Fall scent of bergamot, cedarwood, lavender & clove (4oz)

$28

Roll On Perfume Oil

Alma signature seasonal scent in organic fractionated coconut oil (10ml).

$16.5

Citrine Stone

Citrine promotes happiness and creativity and encourages a positive attitude.This crystal's positive properties can be extremely useful as the days become shorter and the nights grow longer. Think of citrine as a little drop of sunshine in your pocket.

$3.5

Essential Oil Blend

A warm and uplifting blend of our pure essential oil blend. Add a few drops to a diffuser, warm bath, massage oil or your favorite carrier oil to make a pleasant perfume (.5oz).

$21

Candle - Tin Vessel

Hand poured luxurious vegan coconut & soy wax candles with a wooden wick in a copper tin vessel. Blended with the Alma Summer scent and a natural, phthalate free fragrance oil.

$19

Candle - Glass Vessel

Hand poured luxurious vegan coconut & soy wax with a crackling wooden wick. Blended with pure essential oils of bergamot, organic cedar wood, pink grapefruit, lavender, organic clove and phthalate free fragrance. Vessel colors include matte yellow, matte clay, translucent wine and matte persimmon. Blended with signature seasonal scent and a natural fragrance oil.

$42

Bamboo Incense

Encased in natural tree powder and hand dipped in pure essential oils and natural fragrance (20 pcs).

$16.5

Reed Diffuser

Alma signature fall scent of bergamot, cedar wood, grapefruit, clove & lavender in a coco vegan non toxic diffuser base (8oz)

$48
Available for purchase/pickup only during hours of operation. Visit the Cafe for product display or shop online at the bottom of our online ordering page
Alma is a no tipping operation. We add a 18% wellness surcharge to all purchases to support fair wages and benefits. Pursuant to Minnesota Statute Section 177.23 subdivision 9, this service charge is not a gratuity for employee service.